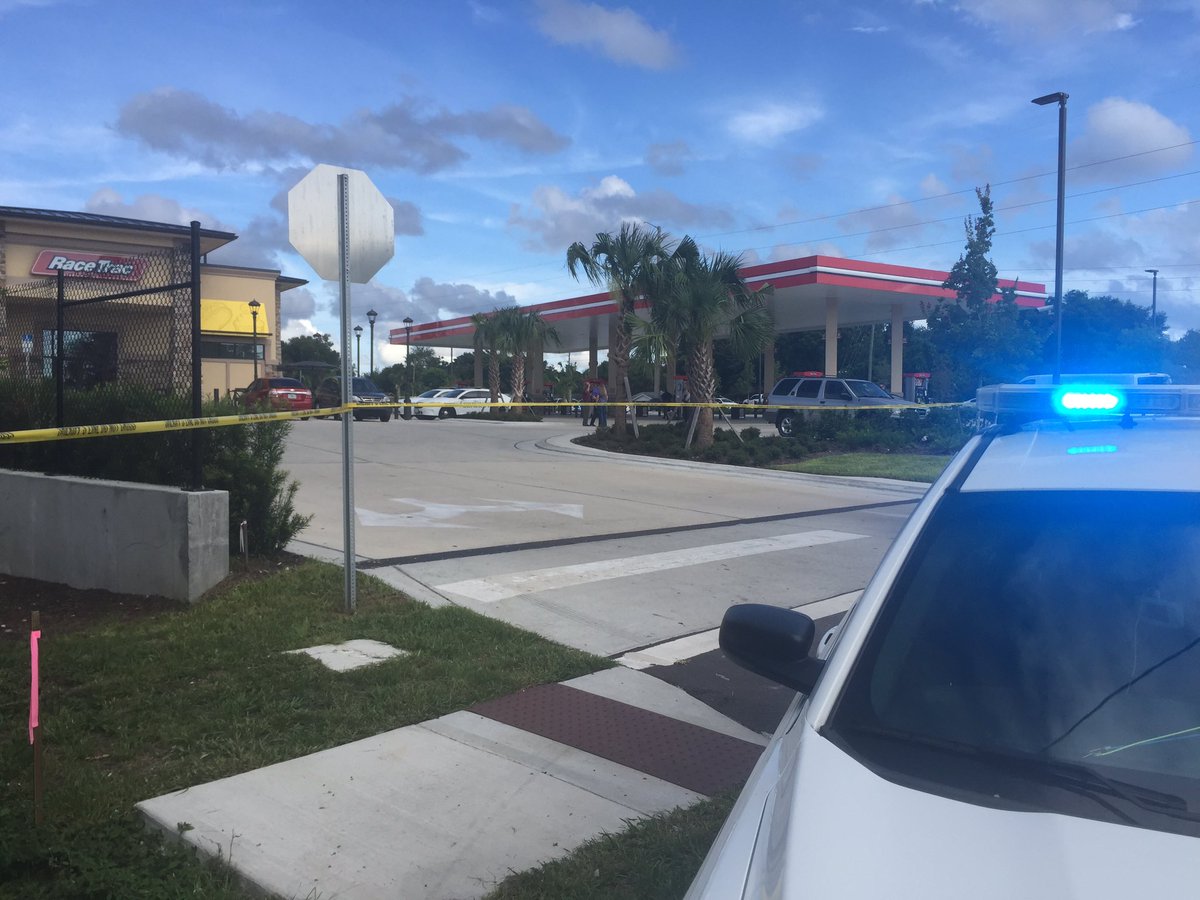 DELTONA, Florida July 5 2017-- Volusia County sheriff's deputies shot and killed a man who they say took their Taser as he was being handcuffed at a Saxon Boulevard convenience store Thursday.
Sheriff Mike Chitwood, speaking at a news conference on the lawn outside the RaceTrac gas station, said the suspect has not been positively identified, but described him in his late 20s or early 30s.
He said he saw a deputy's body camera video that shows the attempted arrest. "They were wrestling. You can see the Taser is in his right hand," Chitwood said during a news conference outside a RaceTrac gas station on Saxon Boulevard.
Deputies were called around 4:13 p.m. to the convenience store because the suspect had been in the bathroom for 90 minutes and had been seen running around shirtless, said Andrew Gant, a Sheriff's Office spokesman.
When a deputy arrived minutes later, he saw the suspect with needles and what officials believed was heroin and fentanyl. The narcotics and paraphernalia were in plain view in the sink and the suspect was standing at the sink, according to the Sheriff's Office.
"Clearly this goes back to the opioid epidemic here," Chitwood said. "Clearly you have somebody that was not, in my opinion from what I saw, was not in the right frame of mind and decided for whatever reason he (was) not going to go to jail."
Chitwood said the first deputy on the scene got the suspect down on one knee with handcuffs on one wrist.
"The first deputy must tell him 15 times, 'Sir, I'm placing you under arrest. There's no sense in resisting. Put your hands behind your back,'" Chitwood said.
The deputy and suspect, who was Hispanic, conversed in both Spanish and English, the sheriff added.
But when the second deputy arrived, the suspect resisted. "All hell breaks loose in the bathroom," Chitwood said, and the deputy fired.
Chitwood said he will release the name of the deputy who fired his weapon Friday, following policy. He has been placed on administrative leave with pay, which also follows policy.
"We say it over and over and over again. You cannot challenge law enforcement," Chitwood said. "Obey the commands and everything ends peacefully."
He summed it up by calling Thursday's incident a "deadly force situation."
The Florida Department of Law Enforcement will investigate.
The Racetrac where the shooting took place is a short distance east of Interstate 4. Rush hour traffic along Saxon was made worse by the presence of Sheriff's Office vehicles. The entire gas station was cordoned off by yellow tape and detectives remained on the scene for a few hours.
Pete Roldan, who works at a neighboring business, was surprised when he heard what happened about 100 yards down the street.
"That's not something that's common around here," he said, shaking his head. "But I guess you can expect anything nowadays."