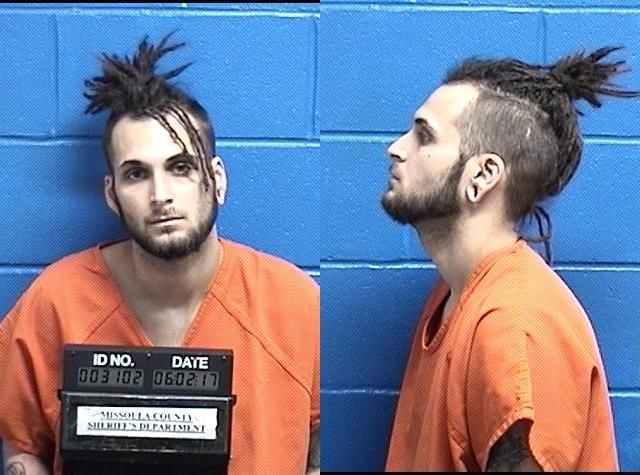 Missoula County MT June 6 2017
A Denver man is facing a felony charge of attempted deliberate homicide after allegedly sticking a gun into the ribs of a security guard and trying to pull the trigger during a late-night altercation in May.
Michael James Vance, 24, appeared in Missoula County Justice Court on Monday. He is also charged with felony assault with a weapon for a March incident in which he allegedly stabbed a different man in the face with a broken bottle outside a bar late at night.
According to charging documents, on May 26 just after midnight, Missoula City Police officers responded to the Bodega Bar on Ryman Street for a report of a man with a gun.
Officers interviewed a security guard, who said he asked Vance to take his backpack out of the bar because it's against house rules. Vance allegedly became upset, poured two beers on the bar and asked for his money back or he would contact his lawyer.
Vance tried to push the bouncer, who then tackled him and threw him out. About 10 minutes later, according to the documents, Vance returned smoking a cigarette, according to the security guard, and said something like "I got something for you, bi---."
Vance allegedly had a gun in his right hand and put the muzzle in the security guard's upper left rib area. As the bouncer reached for the gun, he also reported seeing Vance trying to pull the trigger. As the guard was grabbing the gun, he took out his own knife and stabbed Vance on his left abdomen and pushed him away, according to court documents.
The incident was captured on surveillance video.
Officers found Vance in a car leaving the parking garage. He had blood on his shirt and a wound in his abdomen. He had an active warrant for his arrest for the previous charge of assault with a weapon, and was taken to the hospital to be treated.
Court documents say the other stabbing involving Vance happened on March 12. Officers had observed a man in a red shirt and bandanna at several downtown locations who seemed very agitated.
At the end of the night, officers got a report that a man matching that description had been waving a knife around. Officers went to look for Vance when another man flagged them down and reported that he had been stabbed in the face with a broken bottle by a man who he described as a "rapper dude."
Officers located Vance in a downtown alley, but when Vance saw police, he allegedly ducked behind a parked car. However, officers arrested him and Vance told him he had a knife in his pocket. Vance allegedly began talking without prompting, saying "some guy had come at him." Vance later admitted to hitting the man in the face with a broken beer bottle.
Officers later interviewed the victim, who said he confronted Vance about breaking bottles and that a fight ensued. The victim confirmed that he was stabbed in the face with a broken bottle and needed 13 stitches.
Vance is being held on $75,000 bond.
He is also being charged with a felony failure to appear charge for not showing up to court to face the charges related to the March incident.