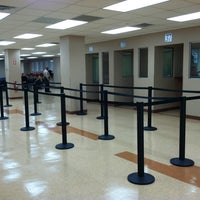 New York City NY April 27 2017 — A private security guard hired to work in a government building in lower Manhattan allegedly attacked a citizen and fractured his ribs without provocation, according to a criminal complaint unsealed on Wednesday.
Federal prosecutors unsealed an indictment on Tuesday charging Edwin Caban, a security officer in a federal government building, with violating the civil rights of a civilian last year.
Caban allegedly pushed "the victim over a desk and then repeatedly [punched] the victim in the ribs without physical provocation," according to the criminal complaint.
Caban, 55, worked as a security officer at a Social Security Administration building in the Financial District. He was employed by a private contractor hired by the Federal Protective Services, the branch of Homeland Security that guards federal buildings. The criminal complaint also accuses Caban of lying about the incident and trying to cover it up.
Joon Kim, the acting U.S. attorney for Manhattan, disclosed the complaint on Wednesday evening.
"The Federal Protective Service's mission is to protect federal facilities, including employees and visitors," Kim said in a statement. "But in this case, we've alleged, an innocent visitor needed protection from a violent and unprovoked attack by Protective Security Officer Edwin Caban, which fractured the visitor's ribs. Officer Caban then allegedly lied about the incident, falsely claiming the victim was disruptive and required removal from the building. "
According to prosecutors, Caban was working in the lobby of the building in June 2016 when a man entered the building wheeling an older man in a wheelchair. When Caban tried to move the wheelchair, the man asked him to stop, prosecutors said. Caban then accused the man of trying to take photos of him with his phone, according to the complaint. At that point, Caban reached for the man, who had his hands up, and pushed him toward the elevator bank, authorities said. Caban allegedly continued to push him backward over a desk, before pinning the man against a wall and then punching him four times in the chest and ribs, according to prosecutors. The incident was recorded by security cameras.
Caban lied about the incident to NYPD officers who responded to the scene, in an incident report he submitted, and to investigators from the Federal Protective Service, prosecutors claimed. He was also charged with one count of filing false forms and making false statements
Caban's attorney could not immediately be reached for comment.