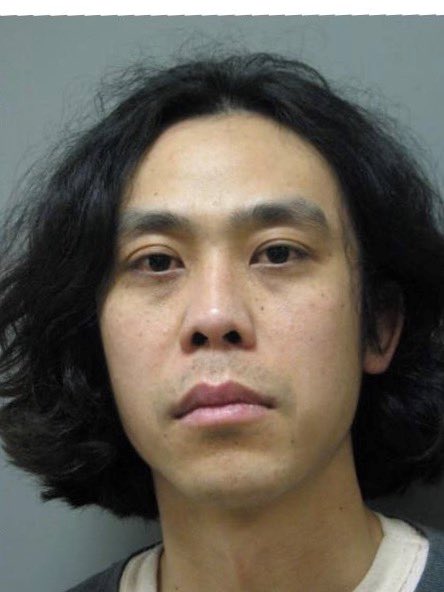 MONTGOMERY COUNTY, Md. Sept 18 2017
A series of virtual and physical clues led to the capture of a burglar accused of fleecing more than $300,000 from two area department stores.
The high-stakes burglaries, which happened in May 2016 and February 2017, occurred at the Westfield Wheaton Mall J.C. Penney and the White Flint Mall Lord & Taylor, respectively. Both break-ins occurred under cover of darkness, while the stores were closed for business.
Police have since charged Assaloun Luangsay, 35, of Silver Spring, with two counts of second-degree burglary and two counts of theft more than $100,000.
It was 8:45 a.m. on Sunday, May 21, 2016. The general manager of the Wheaton J.C. Penney arrived to find his store had fallen victim to a burglar. A public entrance and multiple jewelry display cases were broken with glass strewn about. Around $153,000 in merchandise was unaccounted for.
As in most commercial burglaries, police called up the store's security system. Cameras captured a lanky looking suspect use a rock to shatter an exterior and interior door. It was 3:20 a.m. The suspect then climbed through the shattered panes of glass and armed himself with a metal shelf bracket, which he used to bust open the locked cases in the fine jewelry department.
The suspect filled his pant pockets and a shopping bag with 31 diamond necklaces, 53 pairs of diamond earrings, 31 men's bracelets, 13 men's rings and 30 men's necklaces. At one point the suspect's hood fell, revealing dark shoulder-length hair. The suspect was in-and-out of the store within seven minutes.
Police explain the suspect triggered an alarm, but when the security company contacted a J.C. Penney employee, she had them waive the motion sensor detector, citing a slew of recent false alarms.
Nine months later, Montgomery County Police were dispatched to an alarm call at the Lord & Taylor in North Bethesda. It was a chilly mid-February morning, around 4 a.m. Officers quickly spotted a shattered window of an upper level entrance beside the parking garage. Inside the department store, officers counted 10 smashed jewelry cases.
A review of store surveillance video revealed a male suspect wearing a black mask, black knit cap, sunglasses, green jacket, blue jeans and brown "combat" style boots. The suspect used a large metal pipe to smash his way into the store and the glass jewelry displays. He then dumped around 250 pieces of assorted jewelry into a black garbage bag and exited the store the same way he had come in. The ticket price of the stolen items was around $150,000.
With flashlights in hand, officers happened upon a trail of stolen jewelry in the Lord & Taylor parking lot. The trail of treasure led police to an office building across Rockville Pike. It seemed the burglar's garbage bag had ripped open mid-flight.
Detectives reviewed surveillance video within the office building, and bingo! The suspect could be seen entering the structure's garage without a mask or knit cap covering his face. The video also captured the man exiting the garage in a dark colored Toyota pickup truck.
Upon reviewing the mask-less video, a Lord & Taylor loss prevention officer recognized the suspect to be Luangsay whom he had caught shoplifting months earlier.
Investigators say Luangsay left behind clues at the J.C. Penney store as well. On the afternoon prior to the overnight break-in, a tall, thin, Asian man was recorded on store cameras "studying" the layout of the jewelry cases. The same man was later seen examining the exterior doors that were used during the burglary. The man proceeded to re-enter the J.C. Penney, where he returned to the jewelry section and scanned the ceiling for possible camera locations.
Police arrested Luangsay shortly thereafter.
According to court documents, Luangsay has lived with his mother for the last decade. Born in the Southeast Asian nation of Laos, Luangsay is currently unemployed, but had previously worked at an auto body shop in Dumfries. He has one child.
Those same court records detail a bumpy road of run-ins with law enforcement. That list of infractions includes: identity fraud, forging public records, theft, grand larceny, contempt of court, disorderly conduct, assault of a family member, drug possession and drug distribution.
Investigators say Luangsay has an extensive pawn history in Prince William County. The list of transactions includes the sale of "brilliant cut" diamonds strikingly similar to diamond necklaces and earrings stolen for J.C. Penney. Luangsay also pawned two 14 carat white gold diamond rings at Pawn USA in Woodbridge, which matched items taken from Lord & Taylor.
According to police, Luangsay's mother also frequented pawn shops in Prince William County, despite living 42 miles away in Silver Spring. However, by the time charges were filed against her son, the mandatory hold period had lapsed, making comparison of stolen and pawned items nearly impossible. Police have not charged Luangsay's mother with any crimes.
Luangsay is scheduled for a two-day trial in Montgomery County Circuit Court in early November. The four criminal charges filed against him carry a maximum sentence of 80 years in prison.
ABC7