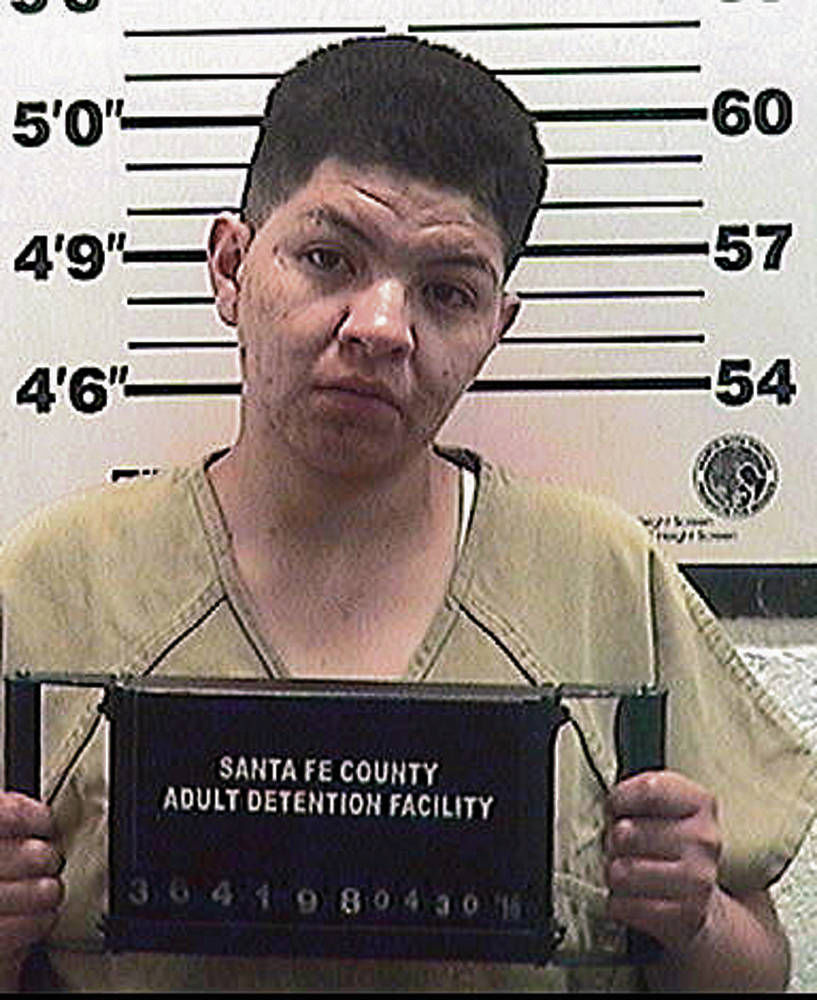 Santa Fe NM Sept 19 2017
A young woman received a six-year prison sentence Monday for stabbing an off-duty police officer in the back while she and two cohorts attempted to flee the Target store in Santa Fe with about $800 worth of stolen goods.
Prosecutors sought a nine-year sentence for Denae Lopez, 24, of Albuquerque. Her attorney argued that Lopez, who spent a year and half in jail awaiting a plea deal, should be released on probation, particularly because the officer she stabbed was not seriously injured.
Lopez, Alexandria Lucero, 25, of Albuquerque and Jonathan Mejia, 26, of Santa Fe tried to leave the Target store on Zafarano Drive with stolen clothes and jewelry on a Friday night in April 2016, according to a police report. Both women pulled knives when the store's security officer tried to stop them.
Sgt. Annabelle Gasca, a special investigations agent with the state police who happened to be in the store, saw the altercation, flashed her badge and wrestled Lucero to the ground, according to a police report. That's when Lopez ran behind Gasca and stabbed her in the back three times with a pocket knife, the report said.
Defense lawyer John G. Camp said Gasca's jacket had three puncture wounds, but she received only one small stab wound. Camp said Gasca required no medical treatment, not even a Band-Aid.
But Gasca testified at the sentencing hearing that Lopez could have killed her. Gasca urged the judge to "send a message to [Lopez] and anyone else who would harm a police officer that "society will not tolerate that."
Prosecutors charged Lopez with aggravated battery on a peace officer, resisting arrest, possession of heroin, armed robbery, conspiracy and assault with intent to commit a violent felony. She pleaded guilty to all the charges, exposing herself to up to 20 years in prison.
Assistant District Attorney Todd Bullion argued that a total of nine years of incarceration was "a more than fair sentence for stabbing a police officer in the back."
He said Lopez dropped out of high school in her senior year and developed a heroin addiction soon after. He said she would benefit from being incarcerated in the state prison system as opposed to the county jail, which only holds prisoners for up to a year. Bullion said Lopez could obtain a high school equivalency degree in prison and perhaps even earn an associate's or bachelor's degree at no cost to herself.
Bullion said Lopez would have an incentive to further her education by the possibility of earning reductions to her sentence for doing so. In addition, he said, Lopez could also receive drug treatment in prison.
District Judge Mary Marlow Sommer said the charges against Lucero and Lopez initially were nearly the same. But prosecutors dismissed some of the charges against Lucero as part of her plea bargain and capped her sentence at three years. Lucero later received a three-year sentence, but Marlow Sommer suspended two years and sent her to the county jail for the other year.
The judge questioned why the District Attorney's Office dismissed the armed robbery charges against Lucero as part of her plea but had not done the same for Lucero. Bullion said it was because Lopez had stabbed the officer.
Lopez's grandmother and great-aunt testified that Lopez's parents had substance abuse problems and had both died by the time Lopez was 14. Lopez wiped tears from her cheeks after her relatives spoke.
Then, in a soft voice, Lopez apologized to Sgt. Gasca and Daniel Segura, the loss prevention officer involved in the confrontation.