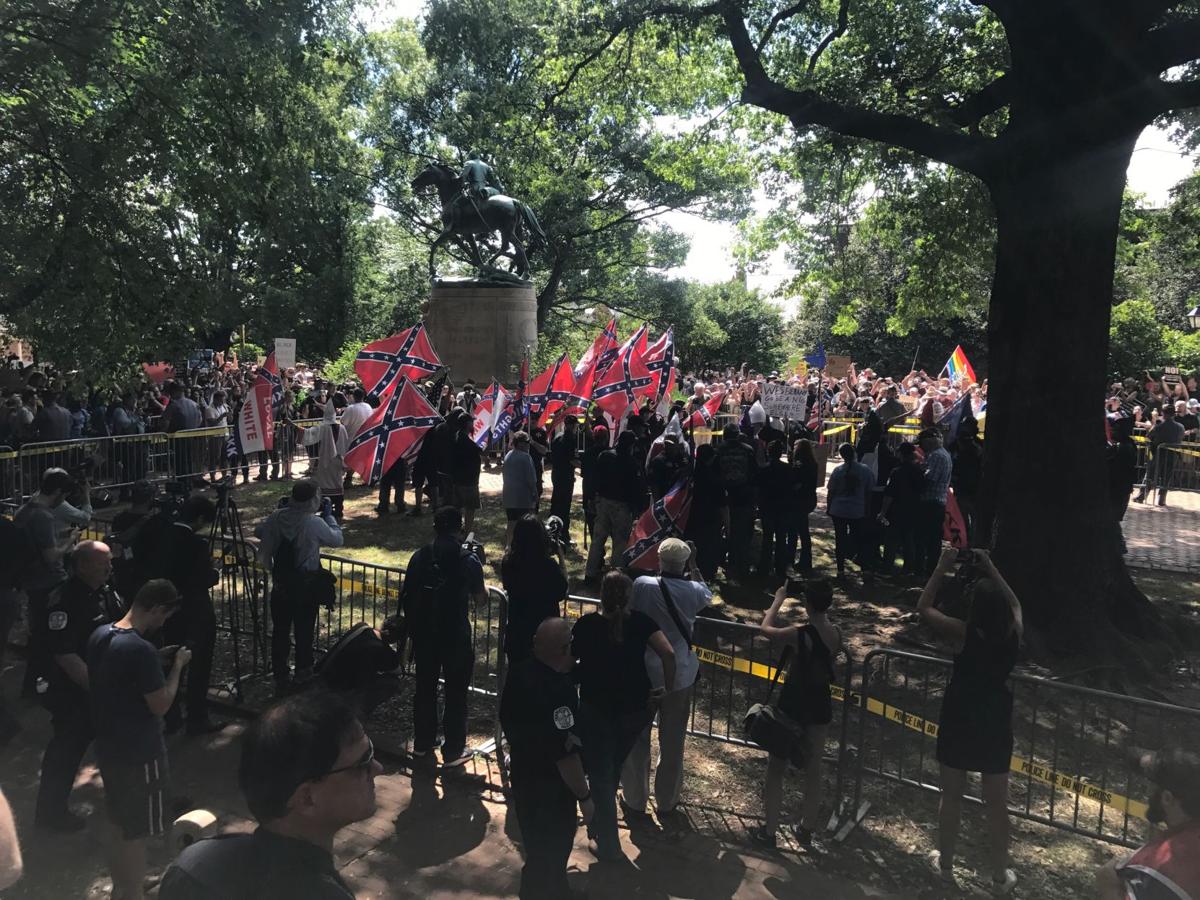 Charlottesville VA July 9 2017 More than 1,000 people were in attendance when about 50 members of the Loyal White Knights of the Ku Klux Klan protested in Justice Park on Saturday, according to a spokeswoman for the city of Charlottesville.
As of 6:15 p.m., 23 people had been arrested. Three people were taken to a hospital, two for heat-related issues and one for an alcohol-related issue.
The spokeswoman said Charlottesville police and Virginia State Police resources "were deployed to secure access to the park and ensure the safety of all involved."
After police allowed the KKK members to leave a parking garage, they began to walk toward Justice Park, she said, and a large group followed. After "a number of incidents," police used pepper spray and state police three three canisters of tear gas to disperse the crowd, the spokeswoman said.
Police and protesters have dispersed from High Street and Justice Park.
Police have used three cans of tear gas on protesters standing in High Street in Charlottesville following the KKK's departure from a protest in Justice Park.
Among those affected were several Daily Progress reporters and a legal observer for the American Civil Liberties Union.
The Charlottesville Police Department has requested assistance from the Albemarle County Police Department, University of Virginia Police Department, Charlottesville Sheriff's Office, Charlottesville Fire Department, Charlottesville Albemarle Rescue Squad and Virginia State Police.
Surveillance cameras were installed near Emancipation and Justice parks within the last couple of weeks, according to Capt. Wendy Lewis, and they are recording on a loop. Footage will only be viewed for evidentiary or investigative purposes, she said.
Having policed similarly large events, such as the Occupy Charlottesville protest in 2011, Lewis said Charlottesville police are confident they can handle the situation.
"I think we're very experienced at it," Lewis said earlier this week. "We find it a privilege to be able to protect people's right to assemble and free speech in a transparent way."