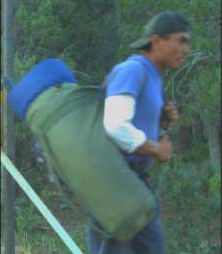 GLOBE AZ July 18 2017 – A man wanted for allegedly starting a series of small fires earlier this month near Forest Lakes, and subsequently shooting at U.S. Forest Service firefighters the next day, has been killed, the FBI has confirmed.
According to the FBI's Phoenix office, the man was killed early July 15 after he allegedly assaulted a federal officer just north of Globe on the San Carlos Reservation.
Investigators have identified the individual, but are awaiting notification of next of kin.
The incident occurred at about 2 a.m. July 15 when law enforcement officers with the U.S. Forest Service and the San Carlos Apache Tribal Police – part of a multi-agency law enforcement effort searching for the man they believe earlier this month set several smalls fires near Forest Lakes and shot at firefighters working in the area – tracked him down in the area of Timber Camp, about 20 miles northeast of Globe on the San Carlos Reservation.
The FBI said the man shot at officers, who returned fire and killed the suspect. No officers were injured in the gunfight.
FBI officials said the man who was killed is believed to be the same person who started eight small fires and shot at Forest Service firefighters July 3-4 near Forest Lakes.
The FBI has jurisdiction for any assault on federal officers. Officials said the investigation is continuing and is being worked on in conjunction with numerous law enforcement agencies, including the Gila County Sheriff's Office, San Carlos Apache Tribal Police Department, the U.S. Forest Service, Coconino County Sheriff's Office and the Arizona Department of Public Safety, who were part of the joint investigation stemming from the July 4 shooting incident.
The Navajo County Sheriff's Office and the White Mountain Apache Tribal Police were also involved in the search and investigation.
Because it is an active and ongoing investigation, FBI officials said no more information will be released at this time.
According to a social media post on the Forest Lakes Fire District's Facebook page, Coconino County Sheriff's Office officials informed the fire district's board Saturday that the "person of interest/aggravated assault suspect from the July 3-4 Forest Lakes shooting was tracked down and killed during a firefight with law enforcement."
It all started July 3 when eight small fires were started and later extinguished in an area near Pond Circle, south of Highway 260 about a mile from Canyon Point Campground in Forest Lakes. The next day, U.S. Forest Service firefighters came across a man, who jumped out from some bushes and fired several shots at them. Fire officials said the man, who they believed also set the fires, was armed with a shotgun and a pistol.
He had been on the run and evading capture ever since despite being spotted twice in Cibecue on consecutive days.