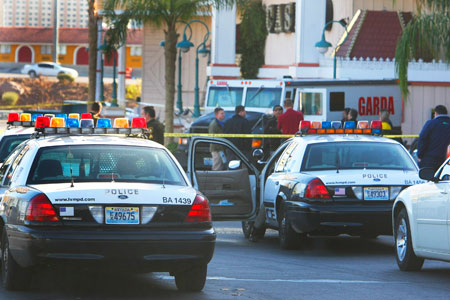 LAS VEGAS NV June 8 2017 Officers are currently looking for multiple suspects accused in the armed robbery of an armored truck on Monday.
The incident was reported near the intersection of Fort Apache Road and Hacienda Avenue.
According to the Las Vegas Metropolitan Police Department, the armed subjects took money from an armored money truck.
The suspects then fled in a newer white Chrysler 200 and officers are still looking for them.
According to police, one of the suspects has been described as a black man around 25-30 years old, with a heavy build, and wearing a dark hoodie and dark jeans. There were no descriptions of the other suspects.
No injuries were reported during the robbery.
Anyone with information as to the suspects' whereabouts is urged to call Crime Stoppers at 702-385-5555.
KSNV