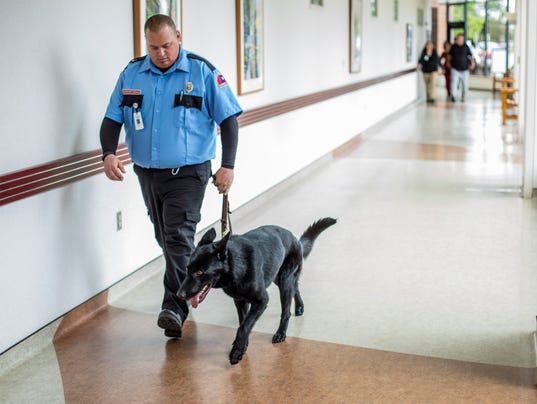 Port Huron MI June 9 2017
McLaren Port Huron's newest employee has been on the job about a week, and patients and staff already love him.
Ruger is a 14-month-old German shepherd who will perform different functions at the hospital ranging from therapy dog to deterrent to sniffing out suspicious packages and vehicles.
With his alert ears and jet black coat, Ruger gets smiles and admiring glances wherever he goes in the hospital.
"There was a demonstration to see the dog today, and there was literally a line," said Doris Seidl, human resources vice president at McLaren Port Huron
Ruger works with security officer Johnathon Hill.
"We went down to Ohio, to a handler down there," Hill said. "... This is the one I bonded the best with."
Rick Martin, manager of security at McLaren Port Huron, said Ruger will be a presence at the hospital.
"His job is going to be mainly a deterrent, and he can do that just by his presence," Martin said.
He said Ruger also will be trained to detect explosives.
"I have not heard anything derogatory yet," Martin said. "They're all 'How cute he is, look at the dog.'"
Ruger's looks, however, belie the seriousness of his mission. Martin said there have been more violent acts in the emergency room in the past 14 months.
"Basically, it is to protect the staff against violent acts," Martin said.
"The sooner we can get calmed down, the safer it is for everyone," Seidl said.
Martin said not everyone is happy about being in the emergency room.
"There's a variety of things people can be unhappy with, and in the world today, they can be more aggressive than in the past."
Seidl said Ruger's "presence acts as a deterrent."
Having a trained dog on hand can quickly de-escalate a situation, according to Martin.
"As soon as they see the dog, it's like 'What do you need? I'll cooperate,'" he said.
Hill said Ruger is all business at work — but the puppy comes out during his off-hours.
"Once he gets home, he's a whole different animal," Hill said. "We step out of the house, he's in work mode. We go back to the house, and he's a puppy."
Times Herald