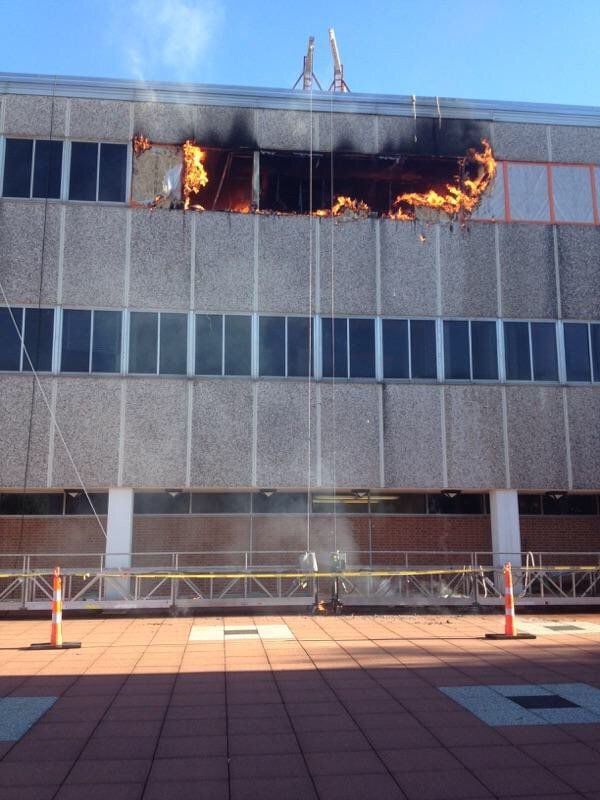 ST. LOUIS MO May 27 2017 No one was injured in a fire Thursday evening on third floor of building at St. Louis University.
Campus public safety officers got a call about 6:30 p.m. about the fire at three-story Macelwane Hall, a science building in the 3500 block of Laclede Avenue, and immediately notified the St. Louis Fire Department, SLU spokesman Jeff Fowler said.
The fire was apparently on third floor of Macelwane. No one was on that floor at the time.
The flames had mostly been extinguished shortly before 7 p.m. but fire crews were still on scene.
Fire Chief Dennis Jenkerson said about 75 firefighters worked the scene at what he called a heavy fire on the third floor. He said it was under control in about 15 minutes.
The cause of the fire is not yet known, Jenkerson said. The bomb and arson squad is helping with the investigation.
Fowler said construction crews were in the process of replacing the third-story windows of the building, but workers had finished for the day and were not at the building at the time of the fire.
Campus public safety officers immediately searched the building and found no one inside. The semester has ended and most students have left campus.
There are no hazardous chemicals in the building. The third floor is mostly faculty offices and a neuroscience research lab.
The extent of the damage caused won't be known until the fire department completes its work, Fowler said.