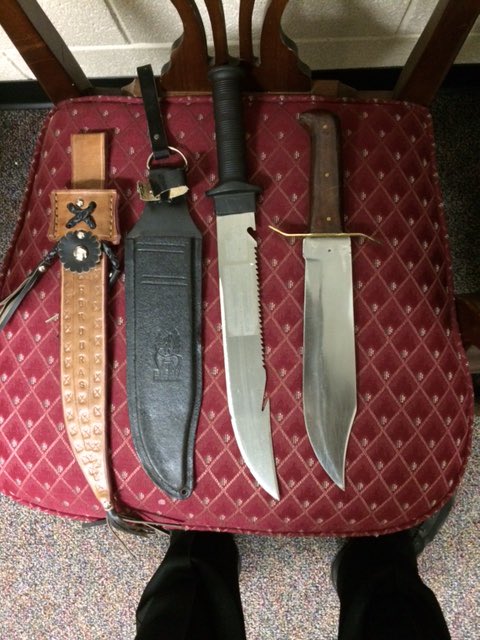 UNION COUNTY, N.C. May 10 2017- Authorities at Forest Hills High School on Tuesday found several knives, a bottle of flammable liquid, fireworks, a dismantled shotgun shell and a "hit list" in a book bag at the Union County school.
Authorities were made aware of a threat that indicated a student intended to stab several classmates at the school, while the "hit list" contained names of nine to 12 people.
The suspect is under 16 years old, so his identity is not being released.
"He certainly had the tools necessary to carry out what he was intending to do," said Tony Underwood with the Union County Sheriff's Office.
The North Carolina State Bureau of Investigation's Information Sharing and Analysis Center Unit received information from a Canadian law enforcement agency about chat room discussions involving threats of violence by a Forest Hills High School student.
Sheriff Eddie Cathey applauded the quick work of deputies and Union County Public Schools officials to avert a possible mass casualty event.
"Who knows who was on that list that the person made? It could have been me, it could have been my closest friend," said junior Malik Huntley.
Deputies said that the attack was scheduled for mid-morning, and told Channel 9 that they believe the incident is isolated and not related to terrorism, but don't know the motive yet.
"The deputies and specifically the School Resource Officer, along with Union County Public Schools did an outstanding job of quickly identifying the student involved with the chat room discussions and finding the weapons before a tragedy happened," Cathey said. "I also need to thank the SBI and ISAAC for bringing this matter to our attention as quickly as they did."
Union County Schools released a statement:
"Keeping students safe is always a priority for Union County Public Schools. We are thankful for our partnership with the Union County Sheriff's Office and want to commend deputies for their immediate response to this matter. We take every threat seriously and staff will continue to work to keep all schools safe. All families at Forest Hills High School have been notified."
Criminal charges are pending, the sheriff's office said.
WSOCTV