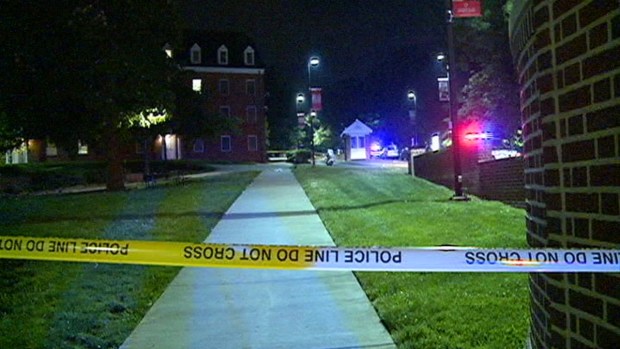 Bowie MD May 22 2017 The FBI is investigating the killing of a visiting student by a University of Maryland student as a possible hate crime, authorities say.
University of Maryland student Sean Christopher Urbanski, 22, has been charged with first- and second-degree murder as well as first-degree assault in the death of Richard Collins III.
University of Maryland Police Chief David Mitchell said at a press conference Sunday that he sought the FBI's help after finding that Urbanski is a member of a Facebook group called "Alt Reich: Nation," where members post racially charged material. Urbanski is white and Collins was black.
"Suffice it to say that it's despicable. It shows extreme bias against women, Latinos, members of the Jewish faith and especially African Americans," Mitchell said.
"We are here to evaluate that as an ongoing concern with respect to whether or not this was a hate crime," said Gordon Johnson, special agent in charge of the FBI field office in Baltimore.
Family members told News4 Washington that 23-year-old Collins was a senior at nearby Bowie State University and was set to graduate on Tuesday. He was recently commissioned as a second lieutenant in the U.S. Army.
The family pastor of the Bowie State University student stabbed and killed on the University of Maryland campus says the family is devastated. News4's Erika Gonzalez reports the victim was an Army lieutenant that was days away from graduating.(Published Sunday, May 21, 2017)
Collins was at a bus stop with two friends near the University of Maryland's Montgomery Hall on Regents Drive about 3 a.m. Saturday, police said.
Court documents obtained by News4 say Collins was waiting for the university's shuttle bus with his friends when they realized the shuttle bus had stopped running for the night. The three decided to call an Uber and were waiting for one to arrive when they heard Urbanski screaming nearby, according to the documents.
Collins and his friends watched Urbanski as he approached them. According to court documents, Urbanski said, "Step left, step left if you know what's best for you," and Collins responded "No."
Urbanski continued to approach the teens, pulled out a knife with a 3- to 4-inch silver blade and stabbed Collins once in the chest, the documents said.
The University of Maryland held a moment of silence during it's graduation ceremony to honor a Bowie State University student who was killed on UMd.'s campus.(Published Sunday, May 21, 2017)
One of Collins' friends ran toward Baltimore Avenue to call 911 and asked the Uber driver to also call emergency responders. Witnesses aided Collins until police and medics arrived.
Two Prince George's County police officers found Urbanski sitting on a bench at a bus stop about 50 feet from where Collins had collapsed. Witnesses identified him as the suspect and he was taken into custody at the university's police department, documents said.
The attack has spread fear across the University of Maryland clampus. Mitchell said the department has stepped up patrols on and around campus.
"I'm not aware of any increase in threats here on campus, but certainly and increase in fear," Mitchell said. "If I'm a person of color, I would certainly look at this as something that could happen to me. In fact, I know on Facebook our students are saying that.''
Dr. Artie Lee Travis, vice president for student affairs at Bowie State University, said the school hopes the investigation moves forward as quickly as possible.
"Hate has no place in America,'' Travis said. "Hate has no place on a college campus, where young minds are coming together to try to change the world.'"
Urbanski is being held without bond.