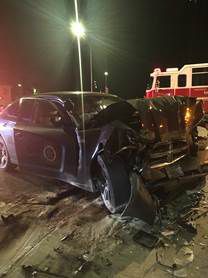 Napa County May 6 2017 While police were responding to a 10 p.m. call Wednesday about a suspicious person at an Imola Avenue restaurant, another man at the scene stole a private security firm's squad car, Napa Police reported.
A Napa County Sheriff's deputy spotted the Black Talon vehicle going northbound on Soscol Avenue and tried to pull it over, but the driver wouldn't stop, police said.
The deputy engaged in a high-speed chase at speeds in excess of 80 mph. The Black Talon squad car ran multiple red lights, police said.
The chase ended when the Black Talon vehicle crashed into a concrete wall at the intersection of Trancas Street and Highway 29, police said.
Police arrested Steven Jefferson Willoughby, a 22-year-old transient, for investigation of vehicle theft and reckless driving.
Before being booked into the Napa County jail, Willoughby, who had a warrant for his arrest, was treated at Queen of the Valley Medical Center for a broken foot, police said. Bail at booking was set at $50,000.
Napa police did not participate in the chase, police said. The sheriff's office requested the California Highway Patrol to take the collision report, police said.