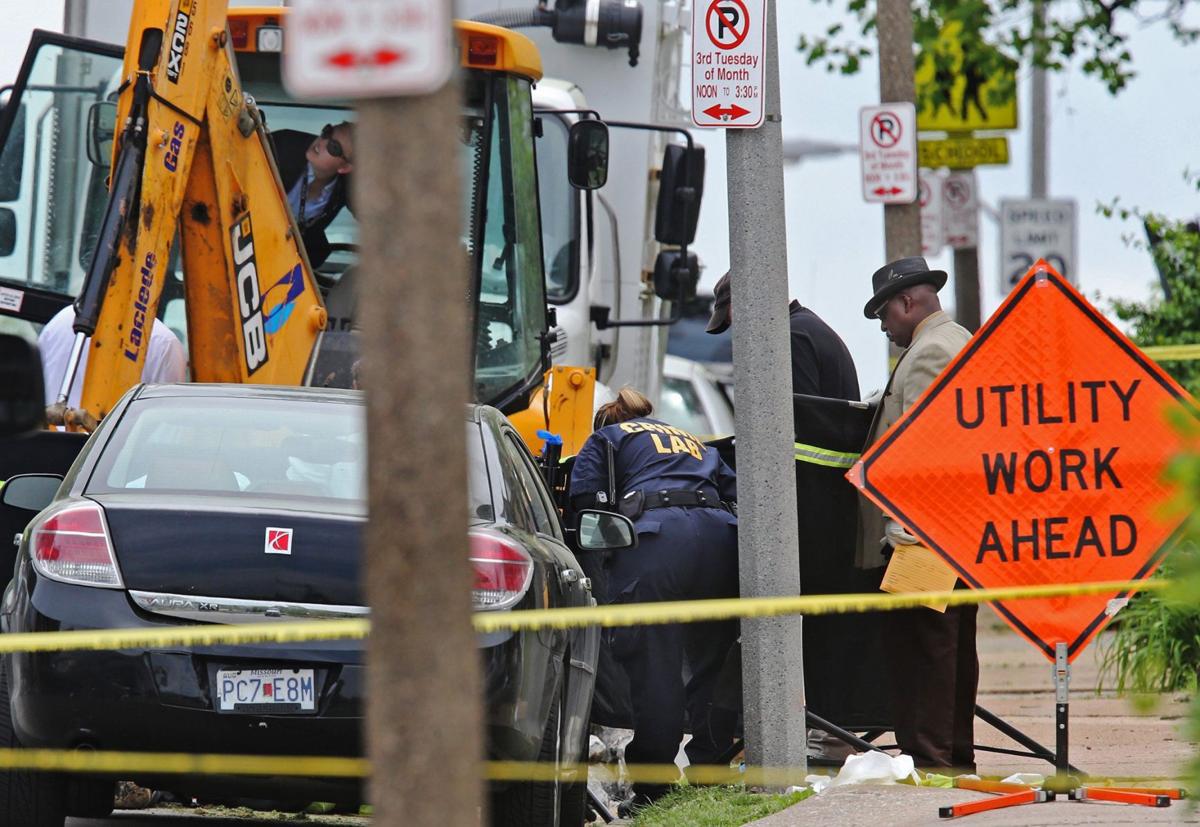 ST. LOUIS MO April 22 2017 A gunman opened fire on a Laclede Gas crew working in the city's Hamilton Heights neighborhood, killing two men in the bizarre attack before shooting and killing himself Thursday morning, police and a witness said.
There's no known motive in the attack, police say, and for the time being they say it may have been random.
The shooting was reported about 11:15 a.m. in the 5900 block of Minerva Avenue, on the western edge of the city. Police said two Laclede Gas workers, one in his 20s and the other in his 50s, were fatally injured when the gunman opened fire, according to St. Louis police Capt. Mary Warnecke.
She said it appeared the gunman fired at them "randomly."
The gunman then walked off and killed himself.
With the motive unknown, Laclede Gas and several other utility companies pulled employees from some St. Louis work sites as a precaution.
Manyika McCoy, 37, told the Post-Dispatch the workers were there to connect gas service to a home she was moving into on Minerva. One was using a jackhammer and another was in a backhoe.
She said she talked and joked with them briefly before walking down the block to her mother's house. McCoy, who is pregnant, joined her mother and three young children in the yard there.
They noticed a man walking briskly up the street, as if with a purpose, but nothing about him really stood out to them. Then, they heard gunshots.
"I heard pop, pop," McCoy said. She wondered if it was fireworks but looked up to see the gunman firing at the workers. The worker in the backhoe stumbled out.
"He was saying, 'Wait, wait," and the guy just kept shooting at him," McCoy said. The worker eventually collapsed in the street, she said.
McCoy believes she heard six shots total. She was trying to get the children — her son, 4, and nephew, 4, and her daughter, 2 — into the house, and fumbled with her cellphone.
"I was calling 911 in one hand and Jesus in the other," she said.
She said she didn't hear the gunman say anything before, during or after the shooting. McCoy said she didn't recognize the man and didn't know where he went. She and her family feared he was on the loose until police said he had killed himself.
One of the Laclede workers and the gunman died at the scene, police said. The other worker was taken to a hospital, where he was pronounced dead a short time later.
The gunman suffered a self-inflicted wound to the head, police said. A gun was found near him.
Co-workers of the Laclede employees gathered at the scene of the shooting Thursday. They called loved ones to let them know they were OK, and consoled one another.
In a brief statement, Laclede Gas said employees there were "heartbroken."
"We are shocked and grieving today after two of our Laclede Gas employees were shot and killed this morning at one of our job sites," the statement said.
"We are connecting with their loved ones now. And, we are working with police to understand more about this crisis. We are heartbroken, as you can imagine, and ask that you hold these employees, their families, their friends, Laclede Gas workers and our communities in your thoughts and prayers."
Laclede Gas and some other area utilities, including Ameren Missouri, the Metropolitan St. Louis Sewer District and Missouri American Water, pulled employees from some St. Louis work sites as a precaution. Some said workers would get safety reminders.
"Our thoughts and prayers are with the victims' family members and co-workers at Laclede Gas during this difficult time," Ameren Missouri's senior vice president of customer operations, Mark Birk, said in a statement.
McCoy said the workers had been sweet and funny in their brief interaction before the shootings. She said she couldn't believe what happened.
"My heart goes out to the victims and their families," she said. "Words can't express my feelings right now."
Her mother, Alice Spann, 59, said the area has an active neighborhood watch, and she goes to the meetings.
"We hear about this, but we never see it," she said. "Those men came to work today to lose their lives. ... It was so quick, and they were innocent people."
Lance Eason, 29, watched as police worked the crime scene early Thursday afternoon.
"I think they need an escort to protect them in areas like this," Eason said. "Crime is up, and some people think they don't have anything to lose."
Eason said people are walking the streets with mental issues and down on their luck.
"We are all at risk," he said.