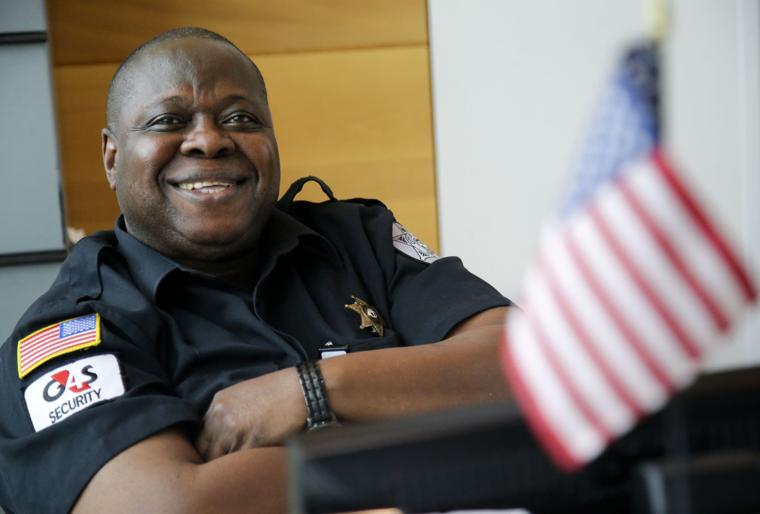 Tulsa OK March 8 2017
It's a two-day trip home to Nigeria for Tulsa City Hall security guard Mike Oyebola, which he makes every year to visit his mother, Victoria Oyebola.
But her death last week has Oyebola rushing to get back this year — this time to say goodbye.
Oyebola, known for his daily, welcoming smile to most of the thousands of employees at City Hall, is making the unexpected trip with the condolences — and a significant financial outpouring — from the people who appreciate his work.
A GoFundMe page to support Oyebola's travel expenses was established late last week, and within the first day the donations had doubled its goal of $3,000. By Monday, the total given had surpassed $8,000.
"I was amazed," he said. "I was thinking, 'I was just doing my job.' I appreciate the kindness."
Oyebola, who works for G4S Secure Solutions, has been with the company for 10 years and has protected City Hall since it moved to One Technology Center, 175 E. Second St., about seven years ago.
He guesses he knows the first name of just about everyone who walks past him. And while most of them know him just as "Mike," he said he never expected such an outpouring of support.
In addition to his travels, Oyebola said, he expects the $8,000 or more will go a long way to helping his family pay for his mother's memorial services, which he said are extensive in his community.
"A big thank you to everyone — the anonymous, all the tenants," Oyebola said. "Thanks to all the donators. I greatly appreciate that and God bless America — land that I love. I give a big kiss to everybody. I love everybody."
Crystal Keller, construction and retail development manager for the city of Tulsa, said she started the GoFundMe effort after co-workers said they wanted to help out but didn't have cash.
"My co-workers and I were talking about how we can help Mike," Keller said. "Instead of passing around the sympathy card, a lot of people wanted to do it by credit card."
Keller said the page took off after that, reaching well beyond the municipal employees at City Hall. Donations are coming in from all of One Technology Center's tenants and beyond.
"It just exploded because Mike is so sincerely good," Keller said. "Every day he's such a blessing to walk into. He knows everybody's name, and I don't know how he does it. … He brightens everyone's morning. Every morning he has such a nice smile."
Oyebola said he's had some difficulty getting together the paperwork that will allow him to travel. A big concern, he said, is that both his U.S. and Nigerian passports had been set to expire this month.
That required a trip to Houston on Friday to expedite the paperwork, he said.
Oyebola said he hopes to leave for Nigeria the second week of April and to spend a month at home with his family.
"It's not easy," he said. "Because of (President Donald) Trump right now we have to make sure the paperwork is very compact and concise due to regulation of immigration.
"Those people that I've been meeting or met through this process are all good people. I really appreciate it. God almighty will reciprocate in kind."