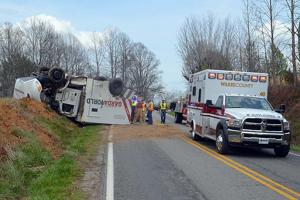 Wilkes County NC March 29 2017
A GardaWorld armored car out of Charlotte overturned Monday afternoon on N.C. 268 East in the Roaring River community, according to Trooper R.R. Walker of the N.C. Highway Patrol.
Cole Horton Wardwell, 21, of Shelby, driver of the 2017 Peterbilt armored car, and a passenger, Chemeka Danielle Moore, 20, of Greensboro, were treated at the scene, but declined to be taken to a hospital by Wilkes Emergency Services, Walker said.
The vehicle was traveling east up a hill when it went off on the right, hit a ditch and then several mailboxes and metal posts. The truck then went off on the left, hit an embankment and overturned onto its top, blocking the westbound lane, Walker said.
The wreck happened around 3:15 p.m. near Arbor Grove Baptist Church Road. The highway was blocked in both directions by Roaring River firemen and first responders while the emergency effort was underway.
Trooper J.E. Belcher assisted Walker with his investigation. A deputy with the Wilkes Sheriff's Office was also on the scene.
Walker said the armored car was likely a total loss. He listed damage to the vehicle at $60,000.
Wardwell was charged with failure to maintain lane control.