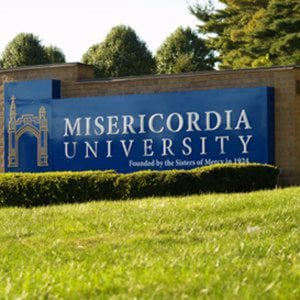 DALLAS TWP. Feb 21 2017— Misericordia University will join the ranks of colleges where at least some campus security guards carry guns. The Dallas Township school announced Monday its board of trustees has approved arming guards.
Armed guards have been on local campuses since 2013, when Luzerne County Community College announced some guards on the Nanticoke campus would start carrying firearms. Wilkes University followed suit in 2014, and King's College announced the addition of guns to the security force in 2015.
Previously, Misericordia officials would only say that security procedures are annually reviewed, with armed guards an option.
On Monday morning, the university issued a press release noting the board has approved a resolution to "arm certain campus safety personnel." The statement noted the school currently has 16 full-time campus officers and 27 overall, with 21 having "previous law enforcement-related experience."
Does it make students feel safer?
Not necessarily, said Lena Williams, 20, a communications major from Harrisburg.
"Our campus is already relatively safe," she said. "Unlike King's and Wilkes, it's in a more suburban area, so this decision doesn't necessarily make me feel safer. You could probably say I'm indifferent to the decision.
"We're a very safe, closed-in campus. That doesn't mean something couldn't happen, but we're not Ohio State," she said. Williams was referring to an incident at Ohio State where a student drove a vehicle into a crowd of pedestrians, then got out and began stabbing people.
Mike Gombita, 21, a junior communications major from Equinunk, said the school community is very welcoming, but it's a harsh world off campus. "We can't control what goes on," he said.
Gombita supported the board's decision. "I think the school is being very proactive. It's not in a sense where we had something happen in the past," he noted.
Junior Giovana Augustine, 20, of Shavertown welcomed the news of an armed security force, even though she lives off campus.
"I feel it has been very beneficial to put student safety as a high priority," said Augustine, who is majoring in early childhood special education.
Students were asked for input, and Augustine felt their concerns were addressed.
Spokesman Paul Krzywicki said the university plans to have a mix of armed and unarmed guards. For safety reasons, the school would not release the number of those expected to be carrying firearms. When King's announced the arming of its officers, it similarly declined to give a number.
Misericordia is following King's lead in one other regard: Security guards carrying guns may have Act 235 certification or Act 120 certification. State law allows those with either certification to work as armed officers. The difference: Act 235 training is for all types of security guards, while Act 120 training is required for municipal police officers.
Like LCCC, Wilkes and King's, Misericordia took a lot of time in deciding to arm guards. Krzywicki said the official effort began in April of last year, with the "gears set in motion," including compiling a comprehensive feasibility study and setting up a team to conduct informational meetings with students, faculty and staff.
The board of trustees received periodic updates.
But Krzywicki said the discussion had been ongoing in a less formal fashion for years prior to last April.
While all four local campuses will now be patrolled by armed officers, none of the schools has gone the extra step of creating an independent campus police force with powers to arrest and detain. LCCC, Wilkes, King's and Misericordia all still rely on local police departments for that. Regionally, only the University of Scranton has an independent police force.
"We will continue to treat our campus community and visitors with utmost respect,'' Misericordia President Thomas Botzman said in the release. "The goal is to establish an option to be utilized only in rare situations where it is absolutely necessary for the preservation of life, and to mitigate the advance of an active-shooter situation or violent person using deadly force on campus.
"Campus safety will also continue to enhance other processes that include emergency alert systems, campus-wide incident training, video surveillance, and other methods that protect both people and property. This campus must always be a safe place that fosters a culture where all are welcome.''
Officials did not cite any specific incident that led to the decision.