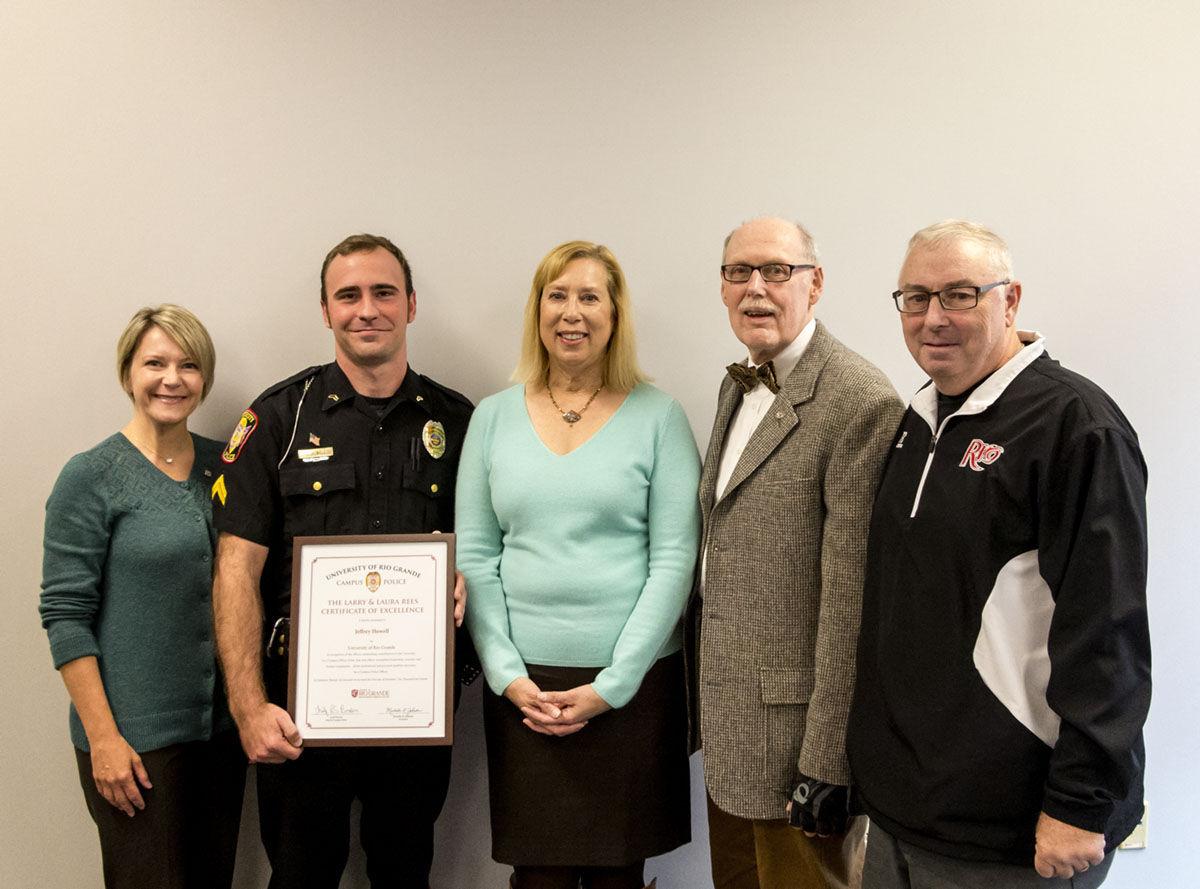 RIO GRANDE, Ohio Jan 3 2017 - In order to recognize the dedication made by the Rio Grande Community College Campus Police to keeping the campus community safe, the University of Rio Grande honored one officer with a newly created award.
President Michelle Johnston presented Cpl. Jeff Howell with the Larry and Laura Rees Certificate of Excellence Award as the department's first Officer of the Year.
"We are proud of the work our police force does every single day," Johnston said in a release. "To have the opportunity to recognize that with this Officer of the Year dedication will be a tradition we will have for years to come."
Campus Police Chief Scott Borden said the department voted for the colleague they felt was deserving of the award by demonstrating leadership, courtesy and human compassion both in and out of uniform.
"Jeff is very loyal and has longevity to the department," Borden said in the release. "He's a guy the younger officers can look up to and get advice from, and we are grateful for his service to the university."
University of Rio Grande Board of Trustee Larry Rees said he and his wife, Laura, appreciate the department's dedication to serving the community and wanted to honor their excellence with this new award.
"The campus police do a wonderful job, so I wanted to make sure we had some vehicle to recognize outstanding achievements within the department," Rees said. "This goes to an officer who exemplifies the best qualities of the campus police, and I am more than happy to amplify that achievement."
Howell said he hopes this award will become a tradition that encourages officers to continue striving to serve and protect the Rio community.
"Being the first recipient is an honor," Howell said in the release. "I feel all the officers in our department are deserving of this award because we all put in the same effort to keep the campus community safe."
The university presented Howell with a gift of a uniform ribbon. As an additional gift, Larry and Laura Rees also donated a gift of a firearm to the department for the Officer of the Year to carry for that year.
"It's always good to recognize someone with something tangible," Rees said. "I know officers often have to buy their own firearms, so I felt this would be a great gift for the Officer of the Year."
Howell has been a member of the Campus Police Department since 2009.