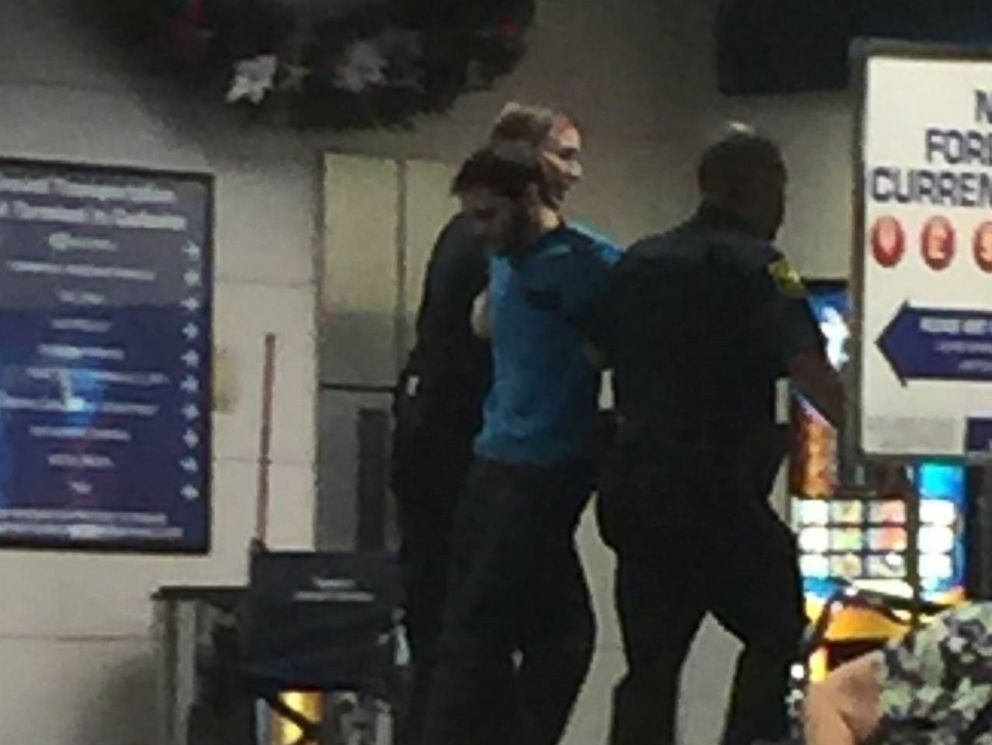 Fort Lauderdale FL Jan 8 20117
Looking at the Fort Laudersale airport shooter's you might say that it parallels that of several other recent active shooters and police officer murders.
He had extensive military training, a history of mental illness, and held a position involving security and public safety.
We know that the shooter, Esteban Santiago, 26, had been with the Alaska Army National Guard and that Santiago has a near decade-long history of military service dating back to 2007.
Lt. Col. Candis A. Olmstead said, Santiago joined the Puerto Rico National Guard when he was 17 years old. In April of 2010, he was deployed overseas, serving in Iraq for about 10 months. After his tour, Santiago joined the Army Reserves, before joining the Alaska Army National Guard in Nov. of 2014.
During that time, Santiago was described as a traditional soldier working as a combat engineer stationed in Anchorage.
According to Olmstead, less than two years after enlisting, Santiago received a general discharge from the Alaska Army National Guard in Aug. 2016 for unsatisfactory performance. Officials wouldn't confirm the details behind the discharge. He left service in Alaska as a private first class.
Santiago also has an open criminal complaint filed against him in regards to a Jan. 2016 incident of domestic violence in Anchorage. According to court documents, Santiago assaulted his girlfriend by "strangling her and smacking her in the side of the head." He also allegedly broke a bathroom door during that incident.
According to law enforcement officials, he traveled from Anchorage, Alaska, to Minneapolis before landing in Fort Lauderdale. He boarded the Anchorage flight where he checked his gun into his baggage, a source familiar with the investigation told ABC News.
ABC News reports that Santiago worked for a security company called Signal 88 in Anchorage but we don't know how long he's been employed there.
Police say that in November, he showed up to the FBI's field office in Anchorage, where he espoused conspiracy theories, including one claim the U.S. government was trying to force him to watch ISIS videos, the source said.
When the FBI interviewed him, Santiago appeared incoherent at times, the source said. Investigators suspected that mental health issues may be at play, and they referred Santiago to local law enforcement for a mental health evaluation, the source said.
Members of Santiago's family in New Jersey are being interviewed by the FBI, two law enforcement officials briefed on the probe told ABC News. The FBI confirmed that agents are on site in Union City, New Jersey, but would not provide details on the investigation.
Sources told ABC News that Santiago had received mental health treatment after the encounter with the FBI. A person who answered the phone for Signal 88 said the company has no comment and is "currently under the advisement of federal authorities."
Questions remain about why he progressed to the point of killing people and why he chose the Fort Laudrdale area airport.
Broward County Sheriff Scott Israel said at a press conference this afternoon that at this point it appears likely the suspected gunman acted alone.
The sheriff also said that the investigation is ongoing and that the scene is considered "fluid" and "active." He added that reports of a second incident at the airport were later dismissed.