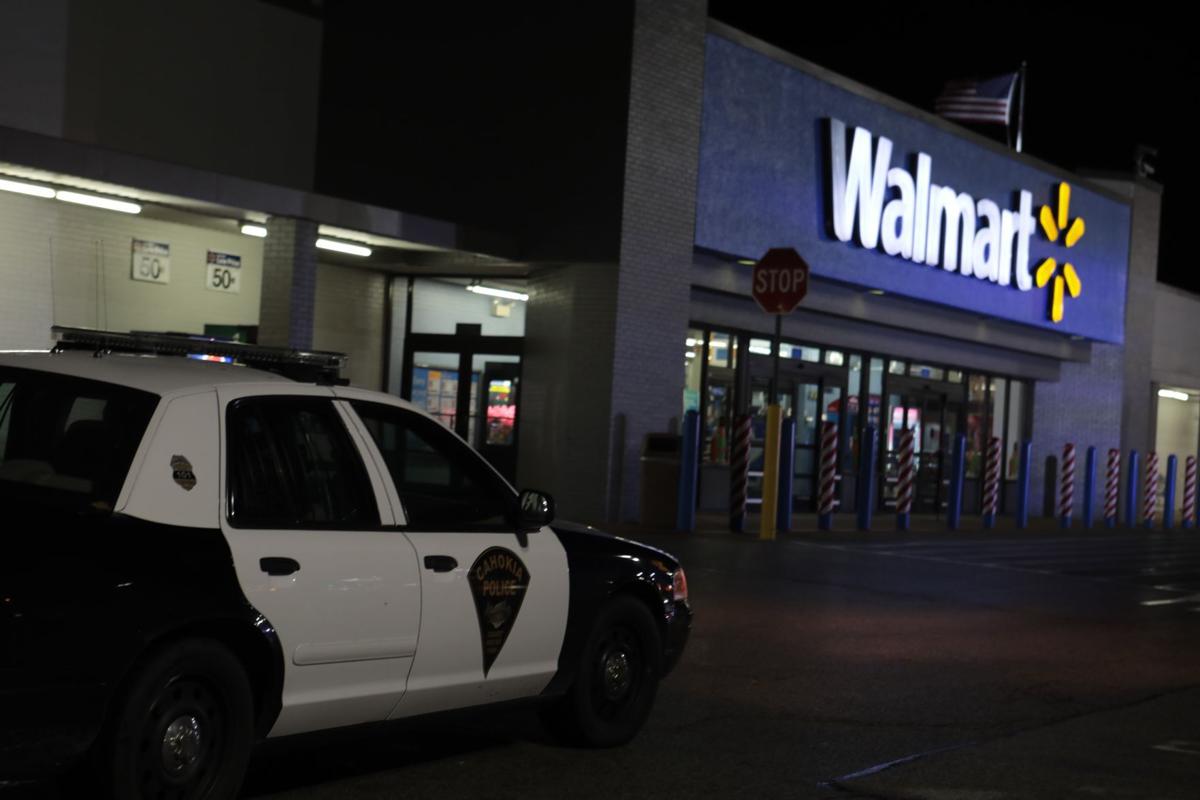 CAHOKIA MO Dec 1 2016 Police said Tuesday that an off-duty Washington Park officer shot and killed a man who drove at him while trying to avoid arrest outside a Walmart store here.
The dead man, Jason Stringer, 35, of East St. Louis, was wanted on warrants and had a history of eluding police in the past, officials said.
The officer, 53, whose name was not released, called police about 4:50 p.m. Monday to report seeing a wanted man with a woman outside the store. Two Cahokia officers tried to take the suspect into custody but he fled after a struggle, according to statement from the Illinois State Police.
Cahokia Police Chief Dave Landmann said the man got into a vehicle and drove toward the off-duty officer, who fired. He said Cahokia officers did not shoot. A statement from Cahokia police says two Cahokia officers were injured, but the state police release said no officers were hurt.
Washington Park Police Chief Tony Tomlinson said the officer who fired has been with his department for about two weeks and passed all of the necessary background checks.
"My initial information on the scene is that all the officers were following the letter of the law," Tomlinson said. "I would ask that everyone wait for the results of the investigation."
He declined to comment further about the circumstances until completion of an outside investigation by the state police.
"It's a tragedy all the way around," Tomlinson said. "Yes, he's a criminal. I want him to go to jail. I want him to face charges and not lose his life."
St. Clair County State's Attorney Brendan Kelly said his office will review results of the state police investigation.
Rita Stringer, 56, of Belleville, said the St. Clair County coroner's office notified her about her son's death. She said Tuesday morning she was upset that police had not briefed her on what happened.
Cahokia police said that while trying to escape, the suspect struck a police vehicle and a brick pillar in front of the Walmart, which caused "extensive damage to the building" and "nearly struck several pedestrians."
It says the Washington Park officer fired "multiple shots at the suspect" hitting him at least once. Autopsy results were pending.
Police from multiple agencies pursued Stringer east for about a mile on Camp Jackson Road as he struck other vehicles. Ultimately, he hit a median divider, which disabled his vehicle. He was arrested and taken to a hospital, where he died.
Tomlinson said he did not know whether the suspect had been armed. He said the man had fled from police multiple times, and was wanted for firing shots on two occasions in October at his ex-girlfriend's new boyfriend. Tomlinson said the man put a gun to the new boyfriend's head at a gas station on Nov. 23.
Kashondra Murphy, 37, who described herself as Jason Stringer's former girlfriend and mother of their 12-year-old child, said he was fun and lovable, "but he had his faults. I think he got wrapped up in the streets."
She cried while talking about how Stringer had fired shots at her new boyfriend.
Murphy of Belleville said they had been together for more than 10 years and apart for about six months.
"I just wish he went to jail instead of being dead," she said.
The suspect was wanted on warrants from East St. Louis for being a convicted felon with a gun and four counts of fleeing and eluding. His bail for those charges was $112,000, Tomlinson said.
Earlier Monday, he had fled from an East St. Louis officer, but police did not pursue, given the rainy conditions, Tomlinson noted. The Illinois State Police said the off-duty officer recognized Stringer's vehicle at the Walmart from the pursuit that occurred earlier Monday.
On Oct. 29, Stringer rammed an East St. Louis police captain's vehicle during a pursuit that led into Washington Park, Tomlinson said.
Tomlinson said Stringer also was involved in a pursuit that ended in a crash earlier this year in downtown St. Louis, and was taken to a hospital for his injuries. The chief said he escaped because police in Illinois thought St. Louis city police were watching him. But St. Louis Police Chief Sam Dotson said Tuesday that city officers do not guard prisoners in hospitals unless they have been charged.
State police asked that anyone with information about Monday's shooting call Detective Bryant Johnson at 618-571-4125.