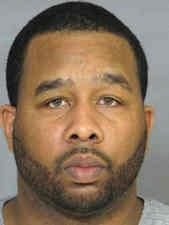 WATERLOO IA Nov 9 2016 – A second armed security guard has been arrested on weapons charges.
Black Hawk County sheriff's deputies arrested Maurice Stovall, 44, of 311 Boston Ave., on Nov. 2 for possession of a firearm following a domestic abuse conviction and carrying weapons. He was later released from jail.
In October, Jamodd Sallis was arrested for felon in possession of a firearm, carrying weapons and impersonating a peace officer in connection with the investigation.
Deputies said Sallis and Stovall had been working security for an estate auction at a Hudson farm on Holmes Road on Oct. 15.
Stovall is prohibited from handling firearms because of a 1992 domestic abuse conviction, according to court records.
Witnesses told deputies that Stovall and other guards carried guns concealed in pockets or in waistbands, records state. During the estate sale, Stovall allegedly handed his gun to another person to hold so it wouldn't fall from his waistband while he loaded an item for a buyer, court records state.
Sallis allegedly worked security while on parole, told a person he was a police officer and showed her how to use a .40-caliber handgun he was carrying