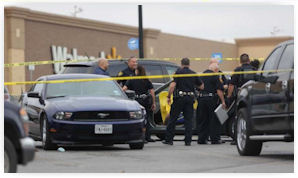 Charlotte NC Nov 29 2016 From coast to coast, the Thanksgiving holiday weekend was filled with violence and chaos as people swarmed shopping centers for discounted items.
Shootings and other violent incidents left at least eight people dead and many more injured over the long Thanksgiving weekend.
Of the eight killed, four were customers (in or outside of shopping centers), two were employees and another two were suspects.
There were also 36 reported robbery incidents.
Below is a list of deaths and some of the shootings that were reported at several stores and shopping centers over the holiday weekend:
Palmview, TX: 1 Killed in HEB shooting
San Antonio, TX: 1 dead in shooting at Walmart
Coral Springs, FL: Jeweler kills employee, then himself in Coral Square Mall
Olathe, KS: 1 dead in officer involved shooting at Olathe Walmart
Hamilton, NJ: Black Friday kicks off with deadly shooting outside Macy's
Reno, NV: One killed following a parking space dispute at Walmart
Carmichael, CA: Man with knife dies after stabbing self at convenience store
Memphis, TN: One injured, one charged, after shots were fired outside Wolfchase Galleria
Two injured in Gang related shooting outside Sears Auto Center at Hamilton Place Mall