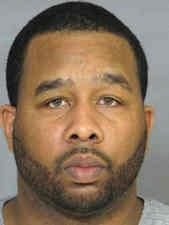 WATERLOO IA Oct 28 2016 – Police have arrested a Waterloo man who was working as a security guard.
According to authorities, Jamodd Amaul Sallis, 36, is prohibited from handling firearms because of convictions for weapons and credit card fraud.
But he entered into a contract to provide armed guard services for a Hudson farm and told police he was head of security at a La Porte Road tavern after parole workers told him he couldn't work in the security field.
On Wednesday, Sallis was arrested for felon in possession of a firearm, carrying weapons and impersonating a peace officer. He was later released from jail.
He allegedly told a person at the farm in October that he was a police officer and indicated he had authority to kill people who came onto the property. He showed a badge, court records state.
Sallis also showed a woman at the farm how to use his .40-caliber handgun and told her he would transfer his police powers to her when he left the property, according to court records.
On Tuesday, authorities searched his home at 2085 Howard Ave. and found a gold and silver badges labeled "concealed weapons permit," a silver "security guard" badge and a silver "security officer" badge, records state.
At the time of his security jobs, Sallis was on parole after being released from prison in December 2014, according to the Iowa Department of Corrections.
In April 2016 parole officers turned down his request to work security at a Waterloo bar and grill because it wasn't considered acceptable employment, according to court records.
Farm owners told parole officials they weren't aware Sallis was under supervision. He was paid $20 an hour.