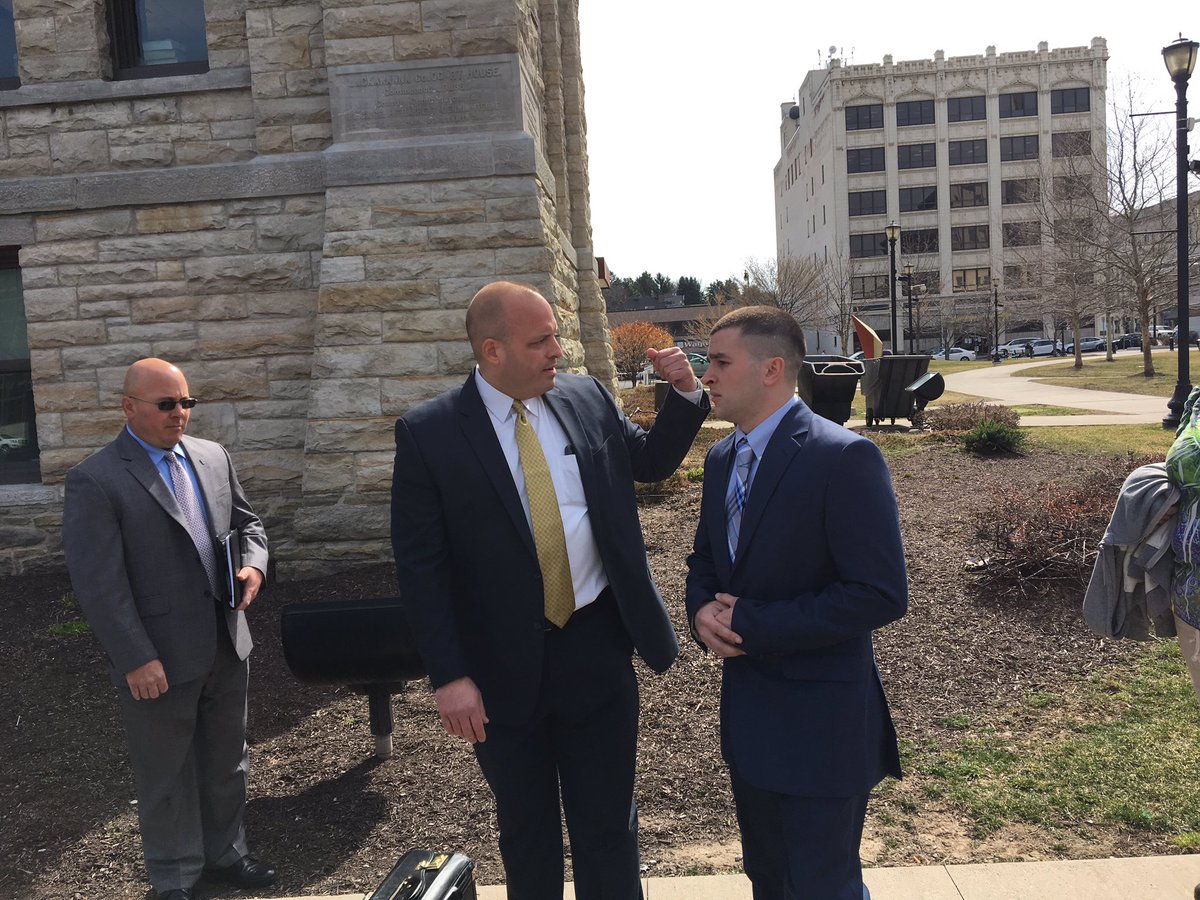 CARBONDALE PA March 26 2016 After an investigation that has lasted more than 50 days a Carbondale police officer was charged Thursday in connection with a deadly shooting.
Prosecutors say the actions of patrolman Frank Schulze in early February were not justified when he shot-and-killed Joseph Molinaro.
With his family and friends by his side Schulze turned himself in at the Lackawanna County courthouse.
The Carbondale Police officer is now facing a criminal homicide charge for allegedly shooting and killing Joseph Molinaro in early February.
"We believe that the charges today are not only outrageous but they are objectionable" said Defense Attorney Corey Kocharno,
According to court documents -- on the night in question Schulze says he heard screaming near his home and went to investigate.
He was off-duty and got his gun.
Schulze first confronted Molinaro who ran.
Schulze followed him confronting him a second time when Schulze claims Molinaro lunged towards him -- and he fired three times, hitting him twice.
Shane Scanlon, the Lackawanna County District Attorney told Eyewitness News.
"There was nothing that we could see in this investigation that justified what took place on this evening"
Prosecutors say Schulze did not immediately call 911 when the incident started.
They say there's also conflicting times when he actually identified himself as a police officer.
"Mr. Schulze claims he identified himself as a police officer at his residence. We don't hear him identify himself as a police officer until after the shooting" said D.A. Scanlon,
Schulze's attorney says his client was sworn to protect the peace as a police officer and that's what he was doing and he was protecting himself when he opened fire.
He now worries about the message these charges send.
"I think this is going to send a very bad message to all police officers throughout Pennsylvania, more importantly Lackawanna County. I think police officers will hesitate at the moment of truth" said Kocharno,
Because Frank Schulze was charged with an open count of criminal homicide a judge denied him bail.
That means he's locked-up in the Lackawanna County prison.
A judge agreed to hear an emergency petition for bail but that won't take place until Tuesday afternoon -- meaning the officer will spend the Easter holiday behind bars.